Latest News
Tweets by @AuScopeVLBI
Follow AuScope VLBI on Twitter and Facebook
10 September 2010
The Hobart 12m is participating in R4447, its first geodetic observation since the feed upgrade. Other stations are: Hobart 26m, Badart (Russia), Kokee Park (Hawaii), Matera (Italy), Medicina (Italy), Svetloe (Russia) and TIGO (Chile)
March 2010
Construction of all three antennas is complete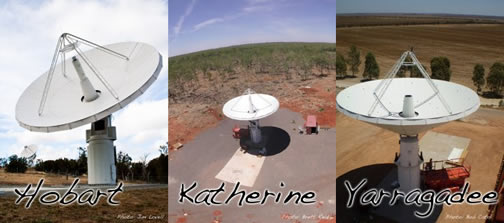 9 February 2010:
Opening of the Hobart 12m Antenna by His Excellency the Governor of Tasmania, the Honorable Peter Underwood
24 December 2009
First fringes to an AuScope telescope: Hobart 12m to Hobart 26m
December 2009
Construction nearing completion at Katherine:
And construction starts at Yarragadee:
October 2009
Foundations are now complete at Yarragadee:
August 2009
The first of our Digital Base-Band Converter (DBBC) units has now arrived at Hobart.
Construction of foundations at the Katherine site are now complete. Photos and updates are available from our Flickr and Facebook pages.
Telescope foundations, 6 August 2009:
April 2009
Construction of the 12m antenna at Hobart is under way. Photos and movies of the construction are on the Hobart installation page.

February 2009
Construction of the AuScope VLBI Operations Room at UTAS has been completed.
18 December 2008
The foundations for the Hobart antenna
have now been poured
. Two Hydrogen masers are now installed at the observatory.
6 October 2008
The University of Tasmania has signed a contract with Patriot Antenna Systems Inc for three 12.1 metre diameter antennas for the AuScope VLBI array. The first antenna will be installed at the Hobart site early in 2009 with the Yarragadee and Katherine telescopes to be installed later in the year. It is anticipated that full operations will commence in the first half of 2010.

Each telescope will be equipped with coaxial S/X-band feeds and room-temperature, dual polarisation receivers. The data will be digitised using the the DBBC System from INAF and recorded using the Conduant Mark5B+ system. Each site will be equipped with Vremya-ch Hydrogen Maser standards.

June 2008

Contract signed with Vremya-ch for three Hydrogen Maser standards

3 -7 March 2008
AuScope VLBI Planning and Networks meeting held in Hobart
1 October 2007
Request for Tender for the Hobart antenna released
September 2007
The contract between UTas and AuScope was signed, permitting UTas to go forward on Request for Tender for the Hobart antenna.